I'm 23 years old, I live down south(ish) in the UK and I work full time as a Digital Marketing Executive for a wedding dress and modest fashion retailer.
I loooove to read (could you guess)? My favourite types of books, if you haven't already gathered from the mass amounts of reviews on them, are thrillers, mysteries, suspense, and psychological thrillers. I am also partial to a bit of horror and historical fiction here and there. Same goes for "general fiction" (whatever that means)!
I don't like reading Young Adult or "New" Adult fiction and I couldn't think of anything worse than reading some trashy erotica novel with an overly muscular guy on the front cover. (But you do you! Read what you want!)
All my reviews are 100% genuine. I get few of my books free from Netgalley & publishers but I don't let that sway my opinion. If it's bad, it's bad, there's no way around that!
Also, I totally judge books by their cover.
~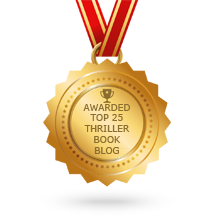 I've been awarded a place on the Top 25 Thriller Blogs to Follow in 2018 on Feedspot! This is an insanely lovely award to have received and it feels amazing to be on this list amongst fellow blogger friends!
~
Please note: I am an Amazon, Book Depository & Wordery affiliate, any links to these sites will be affiliate links. If you purchase from these links I will receive a small sum of money for directing you to their site. I will mention if links used are affiliate.