Hello there! I'm Zuky and I'm 23 years old, I live down south(ish) in the UK. I work full time in Digital Marketing.
When it comes to fiction, I really enjoying reading horror, psychological thrillers, speculative fiction, mysteries, historical fiction and literary fiction.
As for non-fiction, I'm still broadening my horizons from just reading true crime. I'm interested in feminism, politics, weird history, anti-racism & probably some other stuff I haven't discovered yet!
Some of the more specific things I love to read are: horrors set on mountains or in the snowy weather, cult thrillers, haunted houses, narcissistic narrators, small town secrets, Bible belt thriller mysteries, books set over 24 hours.
To give you a better idea of what I love, these are a few books I've rated 5 star:
American Psycho by Bret Easton Ellis
Rosemary's Baby by Ira Levin
The White Road by Sarah Lotz
The First Fifteen Lives of Harry August by Claire North
The Miniaturist by Jessie Burton
The Haunting of Hill House by Shirley Jackson
Invisible Monsters by Chuck Palahniuk
I also review horror books on the blog Horror Bound!
All my reviews are 100% genuine. I get few of my books free from Netgalley & publishers but I don't let that sway my opinion.
Also, I totally judge books by their cover.
~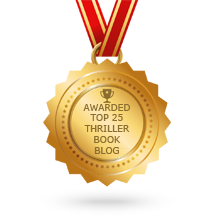 I've been awarded a place on the Top 25 Thriller Blogs to Follow in 2018 on Feedspot! This is an insanely lovely award to have received and it feels amazing to be on this list amongst fellow blogger friends!
~
Please note: I am an Amazon, Book Depository & Wordery affiliate, any links to these sites will be affiliate links. If you purchase from these links I will receive a small sum of money for directing you to their site. I will mention if links used are affiliate.