So not only do I credit Krystin as the person who introduced me to my favourite podcast, My Favorite Murder, but now I'm also taking inspiration from her True Crime Tuesday posts by posting some of my own favourite true crime stories.
Just a little background, true crime has always been a massive interest of mine, ever since I can remember. When I was much younger my uncle let me read through his true crime magazines and I can vividly recall reading about Fred and Rose West's horror story. As soon as I could get my hands on the computer I'd be looking for crime and murder stories, and once a friend came over, looked at my bookshelf full of serial killer books and simply said "your bookshelf worries me".
It's difficult to explain my fascination with death and destruction, I do enjoy reading about murder but I don't enjoy reading about murder all at the same time. How is that possible? I'm not sure, I just love the "what the fuck" moments I have when reading these stories. I don't worship killers, not by a long shot. I love the psychology behind how someone can do something so extreme and violent to anything I could ever imagine. I love bad people getting caught and I also love the stories of survivors or families of survivors doing amazing things off the back of their tragedies.
…Ok so introduction over, I'm going to start with one of the crimes and criminals I find the most fascinating, Richard Speck. (As expected this is going to get dark, so trigger warnings everywhere)
---
Born to raise hell
Growing up
Speck was born in 1944 in Illinois, the seventh of eight children. His early childhood was normal – he was raised by his two religious, teetotal parents whom, on all accounts, he had a good relationship with. However, at the age of 6, his father died. After a few years, Speck's mother remarried a "hard-drinking Texan" by the name of Carl Lindberg, he was everything that this father wasn't. The family packed up their lives and moved to Dallas, Texas.
Lindberg was an alcoholic and began beating the Speck children on a regular basis. Lindberg was a travelling salesman which meant the family moved around a lot, often into poor neighbourhoods.
Speck didn't perform well at school, having to repeat eighth grade and ended up dropping out at the age of 16. By this time, Speck was already 4 years into a drinking habit just like his step-fathers, getting drunk on an almost daily basis. His first arrest was in 1955 at the age of 13 for trespassing – this was followed by dozens more arrests for various misdemeanours over the next 8 years.
Speck held a job as a labourer for a 7-Up bottling company for just short of 3 years between 1960 and 1963. In 1961 he met 15-year-old Shirley Malone and after just 3 weeks of dating, she fell pregnant. In November of 1962 they married and had their daughter soon after. The marriage was far from a happy one. Speck spent most of this marriage locked up, but between his stints in jail, Speck was abusive, and according to Shirley often raped her at knifepoint claiming he "needed sex four to five times a day".
Just 4 weeks out of a previous prison sentence, Speck was arrested again in 1965 for aggravated assault. He attacked a woman in her building car park with a 17-inch knife. His was sentenced to 16 months, but due to an error, only served 6 months. At some point during this period, Speck got a tattoo on his arm that said: "Born to Raise Hell". In January of 1966, his wife, Shirley, filed for divorce.
To escape another prison sentence in Dallas, Speck fled to Chicago to live with his sister for a few days before returning to his hometown in Illinois. He found a job as a carpenter and frequented the local bars, getting in trouble with the law again when he threatened a man in bar restroom with a knife.
Criminal career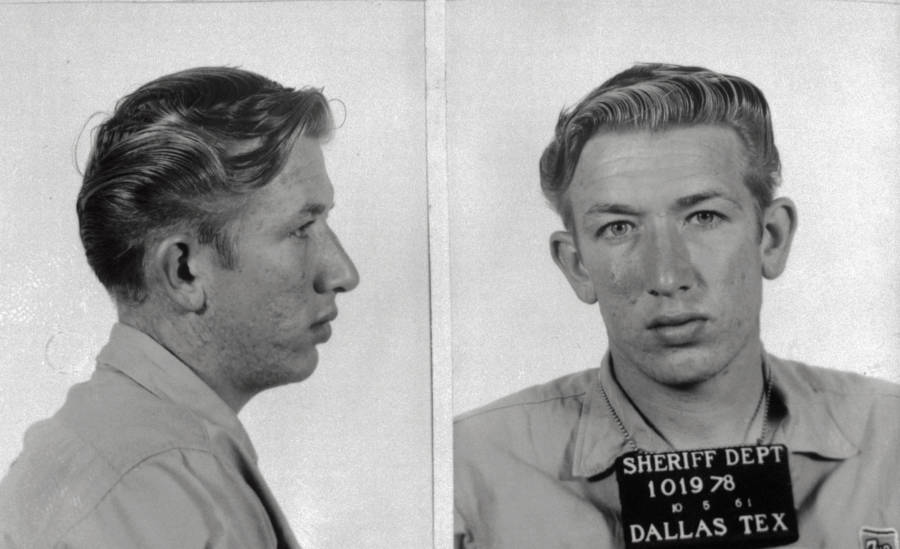 Speck was always a violent criminal but in the month of April 1966 he began committing his extremely violent crimes.
On April 3rd, Virgil Harris, a 65-year-old resident of Monmouth returned home from a babysitting job in the early hours to find Speck in her home. She said he was very "polite" and "spoke with a soft Southern drawl". He blindfolded her, tied her up, raped her and stole the $2.50 she'd earned babysitting that evening.
Just a week later, Mary Kay Pierce, a 32-year-old barmaid, was found dead behind the tavern in which she worked. She had suffered a fatal blow to her abdomen. Speck had done carpentry work for the tavern Mary Kay worked for and so the police questioned Speck. Knowing he was moments from being caught, he escaped to Chicago once again.
Landing in Chicago, Speck took a job with the U.S. Merchant Marine but was soon fired for fighting with one of the boats officers.
He tried to find work on another vessel but was enraged when he found out the job he'd been promised was given to another man.
Landing in Chicago, Speck took a job with the U.S. Merchant Marine but was soon fired for fighting with one of the boats officers.
On July 13th, unemployed and bored, Speck spent his day drinking in a local tavern in Chicago. There he met Ella Mae Hooper, a 53-year-old woman who had spent the day drinking at the same taverns as him. Later that say he held up at knife point, brought her to his room where he raped her and stole her .22 caliber Röhm pistol.
Murder of eight student nurses
Later that night, Speck made his way to the apartment building near the Union Hall. It was home to a group of young student nurses. Speck knocked on the door at around 11pm and 23-year-old Corazon Amurao opened the door – he forced his way in at gunpoint.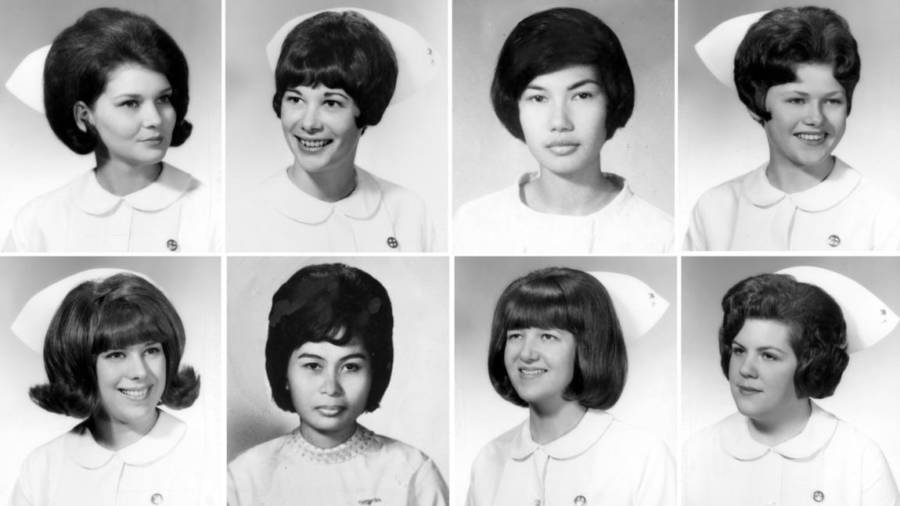 Speck rounded up 9 nurses into one room and told them all to empty their purses. Over the early hours of July 14th, Speck took them out of the room one by one and systematically tortured and murdered 8 of the nurses before escaping into the night.
Little did he know that Cora Amurao, the woman who had initially answered the door to him, was hidden under a bed and had managed to escape his violence. Terrified he would return for her, Amurao stayed hidden for hours until 6am when she then discovered her friends' bodies. When she saw then she ran to the window and screamed "They are all dead. My friends are all dead. Oh God, I'm the only one alive."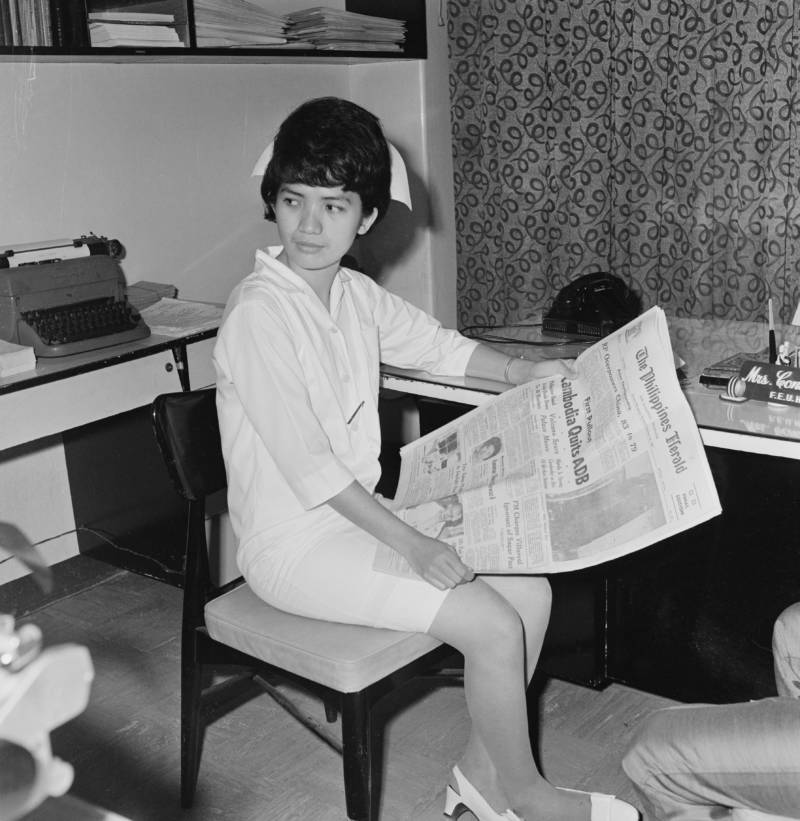 When the police arrived she told them the man had a "pocked face" and recalled the tattoo on his left arm that read "Born To Raise Hell". From her description, a composite sketch was released to the Chicago papers. Fingerprints were also found at the scene, but due to automated fingerprint identification now having been created yet, the prints weren't identified as Speck's for almost a week.
Knowing capture was imminent, Speck attempted suicide, by cutting his wrists, in the hotel he was staying at. Changing his mind last minute, Speck called someone to help him and he was rushed to hospital for surgery to repair his damaged artery. While there, Dr. LeRoy Smith, a 25-year-old surgical resident physician, recognised Speck's "Born To Raise Hell" tattoo and reported him to the police.
Speck was arrested and deemed competent to stand trial by 5 separate psychiatrists.
The trial and conviction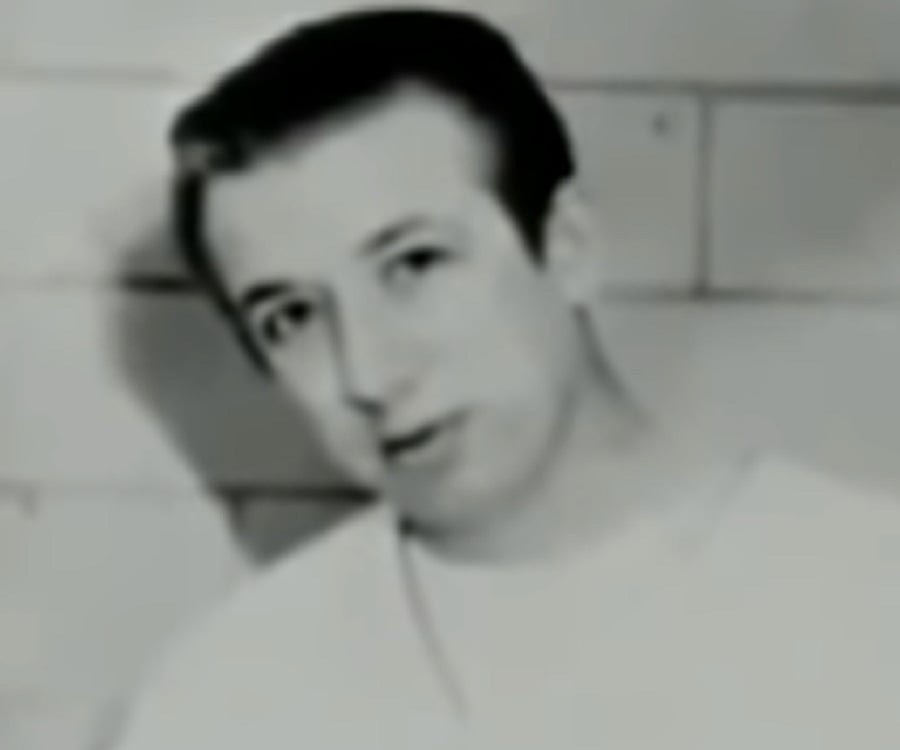 Speck's trial began Aril 3rd 1967 in Peoria, Illinois. Speck claimed to have no recollection of the murders, however, they didn't need his version of events as they had an eyewitness, Corazon Amurao.
When Amurao took to the stand she was asked if she could identify the man who murdered her friends and fellow students. She stood up, walked over and stood directly in front of Speck, pointed at him, almost touching his chest, and said, "This is the man."
The trial lasted just 12 days and after 49 minutes of deliberation, the jury found Richard Speck guilty of all 8 counts of murder. The judge sentenced him to death.
In June 1971, The US Supreme Court found Speck's sentence unconstitutional and reversed the death penalty. In November 1972, Judge Richard Fitzgerald re-sentenced Speck from 400 to 1,200 years in prison. Speck was denied parole 7 times, with the first parole hearing after just 7 minutes.
Life in prison
Speck spent his sentence in the Stateville Correctional Center, Illinois. He was known as a bit of a loner in prison who collected stamps and enjoyed listening to music. He earned himself the nickname "Birdman" as he kept two sparrows as pets after they flew into his cell.
While in prison, Speck was interviewed by John E. Douglas of the FBI's Behavioral Science Unit and later referenced in his book, Mindhunter. While with him, he talks of a disturbing incident with one of Speck's pet birds. "At one point, a guard told him pets weren't allowed. 'I can't have it?' Speck challenged, then walked over to a spinning fan and threw the small bird in. Horrified, the guard said, 'I thought you liked that bird.' 'I did,' Speck replied. 'But if I can't have it, no one can.'"
The infamous video
In 1996, a strange video of Speck in prison became public. The video showed Speck with female-like breasts (he'd allegedly been smuggling in female hormones to make him more desirable to fellow inmates), performing oral sex on another prisoner and taking cocaine.
Death
In the video, a prisoner asks Speck if he killed the nurses. Speck responds, "Sure I did." When asked why, Speck shrugs and jokingly says, "It just wasn't their night." When asked how he felt about himself in the years since the crime, he says, "Like I always felt… had no feeling. If you're asking me if I felt sorry, no." He also describes in detail the experience of strangling someone: "It's not like TV… it takes over three minutes and you have to have a lot of strength."
The man who committed the "Crime of the Century" died in prison in 1991, just one day short of his 50th birthday.
---
And breathe… the story of Richard Speck is over.
I've always found this story really fascinating because unlike with a lot of killers, Speck seemingly didn't have much of a motive to kill all those women and never offered any explanation.
I hope you guys have enjoyed this post (as much as you can do, I suppose!). I'm already thinking about what I'm going to cover next week!
---
I collected information for this blog from…