Books I've read this month
I started this month off fantastically. Participating in 25 in 5 made me read a lot! However, I didn't then read for 2 weeks… so I was kind of in a slump, which sucks!! But, that doesn't matter because I finished 7 books this month, and I'm reading again!
Books read:
 7
Pages read:
1,764
Female authors:
4
Male authors:
3
I was also kind of sucky at reviewing this month… I have a lot of reviews to catch up on!
⭐⭐⭐
The Book Collector by Alice Thompson
Fellside by M. R. Carey
The Missing Girl by Shirley Jackson
The Doll: Short Stories by Daphne du Maurier
⭐⭐⭐⭐
LoveMurder by Saul Black
Thin Air by Michelle Paver
⭐⭐⭐⭐⭐
Night by Elie Wiesel
~
Other book reviews this month
I've decided to add in this section to include the reviews I've posted over the past month that aren't the books I've also read this month…
~
Favourite book of the month
It's so difficult to explain the impact this book had on me, but it's a really tough read but definitely important. It makes complete sense why this book has been put on school curriculums. It's a very emotional and shocking book.
~
Books bought or received this month
Purchases: 2




ARC: 1
~
The BookBum Club
For the month of September, The BookBum Club theme is: BACK TO SCHOOL
Reread a "required reading" book you read in school / Read a book that's on school curriculums / Reread a book you read while attending school
I'll be reading: 
Of Mice and Men by John Steinbeck
In my school, girls & boys English classes were split apart and the boys got to read cool stuff like Animal Farm and Of Mice and Men, and us girls had to read Wuthering Heights and Pride & Prejudice (yawn!!!). I always thought that was unfair, so I've decided it's about time I finally read Of Mice and Men!
Join the club and tell me what you'll be reading in September, here!
~
Book goal update
Thanks to the 25 in Five Challenge I'm actually on ahead my reading goal… for the first time since January!! It's a miracle!! I wonder how long it takes me to lose this progress and fall behind again…
For now, though, I'm very happy with this!
~
Instagram
Here are the pics I posted on IG this month! I participated in a photo challenge this month, so there are a lot of pictures to feature!
~
Music
I discovered a few new tracks this month, plus a new artist to add to my library & a rediscovery of an artist I love!
One of the tracks that I found from an artist that I have previously enjoyed is Peach by Broods. It's a bit different from their other stuff, but I'm really enjoying it!
Next is a track by Steady Holiday. Noe for me, she's a bit hit and miss but her single Who's Gonna Stop Us is amazing!! The music video is good too.
Then, of course, Ariana Grande's new album came out this month and I love it!! There are a few songs I like over others, but overall I think the album is really good!
(Click on the image to be taken to the album)
Now something a little bit different to the rest of the vibe here, but I discovered the artist Denzel Curry & I really love his album TA13OO!
(Click on the image to be taken to the album)
I also rediscovered an artist this month who I hadn't listened in a while, then I randomly put the album on for the first time in ages and I'm obsessed with it! The album is Sweet Dreams by Will Joseph Cook!
(Click on the image to be taken to the album)
~
Personal update
I haven't done a whole lot this month but it's still been a good one!
Early in August Matt and I travelled up to Essesx for a family barbeque (when the weather was still nice!) so that was pleasant! It's been a while since I'd seen pretty much all of my family together!
Combining personal and bookish update, I completed the 25 in 5 challenge this month! It was my first time doing it and my God it was a struggle! I work long hours so I didn't get much time to read after work on the Thursday and Friday night, which meant major catching up was needed over the weekend. It's safe to say I spent my whole weekend reading… lucky ol' Matt got to play on his PlayStation all weekend too.
We also had the bank holiday weekend last weekend which I was expecting to be a chilled one but ended up being pretty busy!
We went to a friends gig on the Friday, which lead to the pub after and then to a friends house after that. In the end, we stayed up until 5am (!!!) catching up with friends we hadn't seen in a while.
On Saturday we had a birthday meal for my step-dad with both my stepsisters and their partners over.
Sunday we met up with more friends and had a big group breakfast that didn't end until after lunch! In the evening at Matt's house, our friend Tyler came over and we played Overcooked 2 until near midnight.
Then on Monday I finally got to have a chill day and I ended up playing games on Matt's laptop allllll day.
And finally, Matt & I had a meeting with a mortgage advisor (who also happens to be one of mum's best friends) and she gave us some advice on what we can afford and what we should be looking at, which is very exciting! The prospect of moving out is a big scary step but she told us that with the money we have saved and the money we earn, it's more than doable for us to be in our own home within the next year! Eeeek!!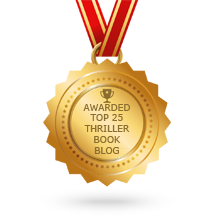 UPDATE: Literally just a few minutes ago I was emailed today I had been added onto a list of the "Top 25 Thriller Book Blogs to Follow in 2018"!! I feel so so honoured and happy to have been included on this list, it seems to crazy to think that my little blog has been recognised in this way!
Check out the list on Feedspot here: https://blog.feedspot.com/thriller_book_blogs/
---
That's a wrap
So that's it for this month! Not the most exciting wrap-up of all time but I hope you've enjoyed reading it.
I hope you had a nice August! What were some of your highlights of this month?