It's been almsot a month since I've done this post, but I've been pretty good and only added 5 new books to my ever-gorwing TBR! I think that deserves a pat on the back.
Keep reading to find some new books!
---
Dark Hours by Mike Thorn
Synopsis: In the bleak landscape of Darkest Hours, people make decisions that lead them into extreme scenarios – sometimes bizarre, often horrific, always unexpected. Between this book's covers you will find academics in distress; monsters abused by people; people terrorized by demons; ghostly reminiscences; resurrected trauma; and occult filmmaking. Ranging from satirical to dreadful, these stories share a distinct voice: urgent, sardonic, brutal, but always empathetic.

~
I found this book through an Instagram post taken by @mother.horror. I loved the cover as soon as I saw it! Horror story collections are my fave type of short story collections, so this sounds like a great book for me and the current reviews for it are very positive!
---
The Boy at the Door by Alex Dahl
Synopsis: Cecilia Wilborg has it all–a loving husband, two beautiful daughters, and a gorgeous home in an affluent Norwegian suburb. And she works hard to keep it all together. Too hard…
There is no room for mistakes in her life. Even taking home a little boy whose parents forgot to pick him up at the pool can put a crimp in Cecilia's carefully planned schedule. Especially when she arrives at the address she was given
and finds an empty, abandoned house…
There's nothing for Cecilia to do but to take the boy home with her, never realizing that soon his quiet presence and knowing eyes will trigger unwelcome memories from her past–and unravel her meticulously crafted life…
~
I've actually seen this book on my Instagram and WordPress feed a lot already, but I never took much notice of it because of the cover. However, very recently I've seen several 5 star reviews for it and that's convinced me it's worth adding to my toppling TBR!
---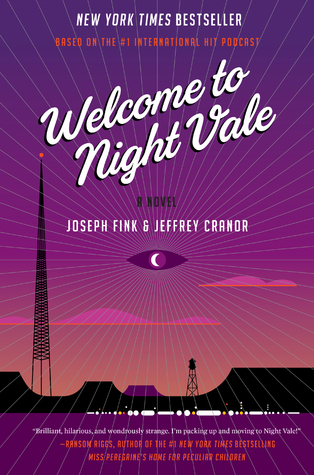 Welcome to Night Vale by Joseph Fink & Jeffrey Cranor
Synopsis:Located in a nameless desert somewhere in the great American Southwest, Night Vale is a small town where ghosts, angels, aliens, and government conspiracies are all commonplace parts of everyday life. It is here that the lives of two women, with two mysteries, will converge.
Nineteen-year-old Night Vale pawn shop owner Jackie Fierro is given a paper marked "King City" by a mysterious man in a tan jacket holding a deer skin suitcase. Everything about him and his paper unsettles her, especially the fact that she can't seem to get the paper to leave her hand, and that no one who meets this man can remember anything about him. Jackie is determined to uncover the mystery of King City and the man in the tan jacket before she herself unravels.
Night Vale PTA treasurer Diane Crayton's son, Josh, is moody and also a shape shifter. And lately Diane's started to see her son's father everywhere she goes, looking the same as the day he left years earlier, when they were both teenagers. Josh, looking different every time Diane sees him, shows a stronger and stronger interest in his estranged father, leading to a disaster Diane can see coming, even as she is helpless to prevent it.
Diane's search to reconnect with her son and Jackie's search for her former routine life collide as they find themselves coming back to two words: "King City". It is King City that holds the key to both of their mysteries, and their futures…if they can ever find it.
~
I had this on my TBR an age ago, but removed it because lots of the reviews said that it wasn't worth reading if you hadn't listened to the podcast. However, I recently started listening to the podcast (which I LOVE) and so I re-added the book!
I just love how random the podcast is and looking at other reviews, it seems this book will be random too. Also, now I've listened to some of the podcast, it's nice reading this synopsis and recognising some of the characters that are going to be in the book!
---
Alice Isn't Dead by Joseph Fink
Synopsis: Keisha Lewis lived a quiet life with her wife, Alice, until the day that Alice disappeared. After months of searching, presuming she was dead, Keisha held a funeral, mourned, and gradually tried to get on with her life. But that was before Keisha started to see her wife, again and again, in the background of news reports from all over America. Alice isn't dead, and she is showing up at every major tragedy and accident in the country.
Following a line of clues, Keisha takes a job with a trucking company, Bay and Creek Transportation, and begins searching for Alice. She eventually stumbles on an otherworldly conflict being waged in the quiet corners of our nation's highway system—uncovering a conspiracy that goes way beyond one missing woman.
Why did Alice disappear? What does she have to do with this secret war between inhuman killers? Why did the chicken cross the road? These questions, and many more will be answered in Alice Isn't Dead.
~
This is a book by one of the co-writers of the novel & podcast mentioned above. This has it's own podcast too, and I'm not sure whether it's worth listening to that first also, but I thought I'd add the book anyway, so I don't forget about it!
---
In Bloom by C. J. Skuse
Synopsis: If only they knew the real truth. It should be my face on those front pages. My headlines. I did those things, not him. I just want to stand on that doorstep and scream it: IT WAS ME. ME. ME. ME. ME!
Rhiannon Lewis has successfully fooled the world and framed her cheating fiancé Craig for the depraved and bloody killing spree she committed. She should be ecstatic that she's free.
Except for one small problem. She's pregnant with her ex-lover's child. The ex-lover she only recently chopped up and buried in her in-laws' garden. And as much as Rhiannon wants to continue making her way through her kill lists, a small voice inside is trying to make her stop.
But can a killer's urges ever really be curbed?
~
I recently finished Sweetpea, which is the prequel to this novel, and gave it a big 5 stars. It was so much fun to read and definitely a book I won't forget anytime soon. When I saw she was coming out with a second, I knew I had to read it and luckily, HQ sent me a review copy! I can't wait to get my teeth into this one.
---
So there we have it! Those are the 5 books I've added to my TBR recently. I'm really excited about all of them, although I think In Bloom is the one I'm most looking forward to!
What books have you discovered recently? Have you read any of these?