I've only gone and left it a few weeks since doing this post again! Luckily I've controlled my trigger finger a little bit and not added like 14 new books this time around (I've only added 10)!
Most of these were found through Netgalley or other bloggers, but I'll explain that in the descriptions below!
It's still gonna be another long post though, so hold tight!
---
The Psychology of Time Travel by Kate Mascarenhas
Synopsis: 1967: Four female scientists invent a time-travel machine. They are on the cusp of fame: the pioneers who opened the world to new possibilities. But then one of them suffers a breakdown and puts the whole project in peril…
2017: Ruby knows her beloved Granny Bee was a pioneer, but they never talk about the past. Though time travel is now big business, Bee has never been part of it. Then they receive a message from the future – a newspaper clipping reporting the mysterious death of an elderly lady…
2018: When Odette discovered the body she went into shock. Blood everywhere, bullet wounds, flesh. But when the inquest fails to answer any of her questions, Odette is frustrated. Who is this dead woman that haunts her dreams? And why is everyone determined to cover up her murder?
~
This was sent to be by the publishers after I initially noticed it on Netgalley! I love the cover for it and being a sci-fi novel, this will help me step out of my usual thriller/mystery comfort zone!
---
What Should Be Wild by Julia Fine
Synopsis: Cursed. Maisie Cothay has never known the feel of human flesh: born with the power to kill or resurrect at her slightest touch, she has spent her childhood sequestered in her family's manor at the edge of a mysterious forest. Maisie's father, an anthropologist who sees her as more experiment than daughter, has warned Maisie not to venture into the wood. Locals talk of men disappearing within, emerging with addled minds and strange stories. What he does not tell Maisie is that for over a millennium her female ancestors have also vanished into the wood, never to emerge—for she is descended from a long line of cursed women.
But one day Maisie's father disappears, and Maisie must venture beyond the walls of her carefully constructed life to find him. Away from her home and the wood for the very first time, she encounters a strange world filled with wonder and deception. Yet the farther she strays, the more the wood calls her home. For only there can Maisie finally reckon with her power and come to understand the wildest parts of herself.
~
I found this novel through Where the Reader Grows' review! Although she didn't give it a hugely incredible rating, the book still sounded really interesting and it caught my attention.
---
Don't Believe It by Charlie Donlea
Synopsis: The Girl of Sugar Beach is the most watched documentary in television history—a riveting, true-life mystery that unfolds over twelve weeks and centers on a fascinating question: Did Grace Sebold murder her boyfriend, Julian, while on a Spring Break vacation, or is she a victim of circumstance and poor police work? Grace has spent the last ten years in a St. Lucian prison, and reaches out to filmmaker Sidney Ryan in a last, desperate attempt to prove her innocence.
As Sidney begins researching, she uncovers startling evidence, additional suspects, and timeline issues that were all overlooked during the original investigation. Before the series even finishes filming, public outcry leads officials to reopen the case. But as the show surges towards its final episodes, Sidney receives a letter saying that she got it badly, terribly wrong.
Sidney has just convinced the world that Grace is innocent. Now she wonders if she has helped to free a ruthless killer. Delving into Grace's past, she peels away layer after layer of deception. But as Sidney edges closer to the real heart of the story, she must decide if finding the truth is worth risking her newfound fame, her career . . . even her life.
~
I've never read a Donlea book before but I've seen several reviews for his work, (prety much) all of them are really postitive too! It's been a long time since I've read a really good mystery thriller and I'm hoping this one could be just that!
---
Incendiary by Michael Cannell
Synopsis: Grand Central, Penn Station, Radio City Music Hall―for almost two decades, no place was safe from the man who signed his anonymous letters "FP" and left his lethal devices in phone booths, storage lockers, even tucked into the plush seats of movie theaters. His victims were left cruelly maimed. Tabloids called him "the greatest individual menace New York City ever faced."
In desperation, Police Captain Howard Finney sought the help of a little known psychiatrist, Dr. James Brussel, whose expertise was the criminal mind. Examining crime scene evidence and the strange wording in the bomber's letters, he compiled a portrait of the suspect down to the cut of his jacket. But how to put a name to the description? Seymour Berkson―a handsome New York socialite, protégé of William Randolph Hearst, and publisher of the tabloid The Journal-American―joined in pursuit of the Mad Bomber. The three men hatched a brilliant scheme to catch him at his own game. Together, they would capture a monster and change the face of American law enforcement.
~
I love & hate What's Nonfiction… so many great true crime recommendations but that means more on my TBR! Agggh! This one sounds really good, the crime also sounds very unique and it's not one I've ever heard about, so it will be intr
---
Star of the North by D. B. John
Synopsis: A young American woman disappears without trace from a South Korean island.
The CIA recruits her twin sister to uncover the truth.
Now, she must go undercover in the world's most deadly state. 

Only by infiltrating the dark heart of the terrifying regime will she be able to save her sister…and herself.
~
I've seen plenty of reviews for this one, it sounds like a really interesting thriller and the Goodreads average rating is super high at the moment!
---
The Day the Sun Died by Yan Lianke
Synopsis: In a little village nestled in the Balou mountains, fourteen-year-old Li Niannian and his parents run a funeral parlor. One evening, he notices a strange occurrence. Instead of preparing for bed, more and more neighbors appear in the streets and fields, carrying on with their daily business as if the sun hadn't already set. Li Niannian watches, mystified. As hundreds of residents are found dreamwalking, they act out the desires they've suppressed during waking hours. Before long, the community devolves into chaos, and it's up to Li Niannian and his parents to save the town before sunrise.
~
The cover caught my eye straight away on Netgalley, and when I read the synopsis, I was immediately intrigued. The fact this is set over 24 hours really interests me, as I love a short time period in a book!  It sounds like a super eerie horror, rather than a book meant to shock.
---
The Chrysalis by Brendan Deneen
Synopsis: Welcome to the dark side of suburbia.

Barely employed millennials Tom and Jenny Decker have to grow up fast when they lose their cheap Manhattan apartment. Leaving "the city" is hard, but the blow is softened when they stumble upon a surprisingly affordable house in the suburbs.
For Tom, the bills, the mortgage, and Jenny's unexpected pregnancy add up to terror. He's not ready for this kind of responsibility.
Then he finds the thing in the basement. It makes him feel like a winner even as it scrambles his senses. A new job soon has him raking in the big bucks–enough that Jenny can start making her entrepreneurial dreams come true.
The Deckers' dream home conceals more than one deadly secret. As Tom's obsession with the basement grows, Jenny realizes that to save her family, she must expose everything. Before it destroys them all.
No one ever really wants to grow up…but sometimes behaving like an adult is the only way to survive.
~
Honestly, this is most likely going to end up a mediocre, crappy modern horror, but that sinister cover caught my eye on Netgalley. There's no harm in adding it to my TBR shelf.
---
My Sister, the Serial Killer by Oyinkan Braithwaite
Synopsis: "Femi makes three, you know. Three and they label you a serial killer."
Korede is bitter. How could she not be? Her sister, Ayoola, is many things: the favorite child, the beautiful one, possibly sociopathic. And now Ayoola's third boyfriend in a row is dead. Korede's practicality is the sisters' saving grace. She knows the best solutions for cleaning blood, the trunk of her car is big enough for a body, and she keeps Ayoola from posting pictures of her dinner to Instagram when she should be mourning her "missing" boyfriend. Not that she gets any credit.
A kind, handsome doctor at the hospital where Korede works, is the bright spot in her life. She dreams of the day when he will realize they're perfect for each other. But one day Ayoola shows up to the hospital uninvited and he takes notice. When he asks Korede for Ayoola's phone number, she must reckon with what her sister has become and what she will do about it.
~
This is another Netgalley find and it sounds sinister and witty all at the same time. Plus, the cover is so attention grabbing, it's amazing!
---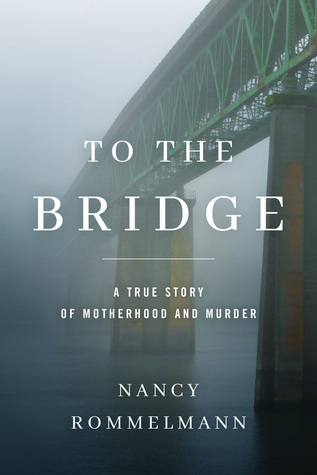 To the Bridge by Nancy Rommelmann
Synopsis: On May 23, 2009, Amanda Stott-Smith drove to the middle of the Sellwood Bridge in Portland, Oregon, and dropped her two children into the Willamette River. Forty minutes later, rescuers found the body of four-year-old Eldon. Miraculously, his seven-year-old sister, Trinity, was saved. As the public cried out for blood, Amanda was arrested, convicted, and sentenced to thirty-five years in prison.
Embarking on a seven-year quest for the truth, Rommelmann traced the roots of Amanda's fury and desperation through thousands of pages of records, withheld documents, meetings with lawyers and convicts, and interviews with friends and family who felt shocked, confused, and emotionally swindled by a woman whose entire life was now defined by an unspeakable crime. At the heart of that crime: a tempestuous marriage, a family on the fast track to self-destruction, and a myriad of secrets and lies as dark and turbulent as the Willamette River.
~
I saw this on Netgalley a while ago, but when my Amazon First email came through this month, I saw it was on the list and knew I couldn't miss out. I love a true crime novel, as you know!
---
The Bus on Thursday by Shirley Barrett
Synopsis: It wasn't just the bad breakup that turned Eleanor Mellett's life upside down. It was the cancer. And all the demons that came with it.
One day she felt a bit of a bump when she was scratching her armpit at work. The next thing she knew, her breast was being dissected and removed by an inappropriately attractive doctor, and she was suddenly deluged with cupcakes, judgy support groups, and her mum knitting sweaters.
Luckily, Eleanor discovers Talbingo, a remote little town looking for a primary-school teacher. Their Miss Barker up and vanished in the night, despite being the most caring teacher ever, according to everyone. Unfortunately, Talbingo is a bit creepy. It's not just the communion-wine-guzzling friar prone to mad rants about how cancer is caused by demons. Or the unstable, overly sensitive kids, always going on about Miss Barker and her amazing sticker system. It's living alone in a remote cabin, with no cell or Internet service, wondering why there are so many locks on the front door and who is knocking on it late at night.
~
The opening line of marketing for this is "The Exorcist meets Bridget Jones' Diary" – I mean how much more enticing you can get?! This sounds amazing and the cover unsettles me… which goes along with the vibes of novel. All round love everything about this before reading it!
---
So there we have it! Those are the 10 books I've added to my TBR since last doing this post just under a month ago. There seems to be an influx of amazing sounding new books recently, I can't stop adding!
What books have you discovered recently? And have you read any of these