I've left it a few weeks again, since doing this post, so there's a lot of new books added to my TBR again. I actually think there's more here than there was when I waited a whole month to do this post! Ugh, what am I like!? I really need to stop adding so many damn books to my TBR, I'm never getting around to all of these books.
It's gonna be another long post, hold tight!
---
One of the Boys by Daniel Magariel
Synopsis: The three of them—a twelve-year-old boy, his older brother, their father—have won the war: the father's term for his bitter divorce and custody battle. They leave their Kansas home and drive through the night to Albuquerque, eager to begin again, united by the thrilling possibility of carving out a new life together. The boys go to school, join basketball teams, make friends. Meanwhile their father works from home, smoking cheap cigars to hide another smell. But soon the little missteps—the dead-eyed absentmindedness, the late night noises, the comings and goings of increasingly odd characters—become sinister, and the boys find themselves watching their father change, grow erratic, then violent.
~
Honestly, this sounds a little depressing but I saw a good review for it on my Reader (I can't remember by who, sorry!) and at only 160 pages it would only be a short read!
---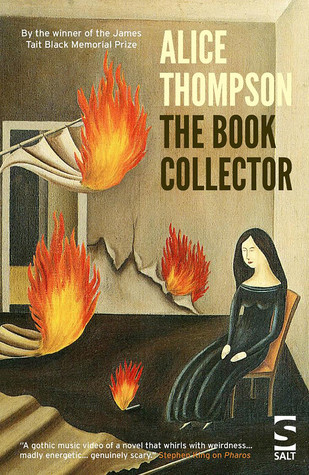 The Book Collector by Alice Thompson
Synopsis: Violet is obsessed with the books of fairy tales her husband acquires, but her growing delusions see her confined in an asylum. As she recovers and is released a terrifying series of events is unleashed.
~
This was introduced to me through Callum's great post all about Gothic Fiction recommendations. I had read or heard of this others on his list, but the cover for this one caught my eye. I think it sounds like a wonderful read!
---
84K by Claire North
Synopsis: What if your life were defined by a number?
What if any crime could be committed without punishment, so long as you could afford to pay the fee assigned to that crime?
Theo works in the Criminal Audit Office. He assesses each crime that crosses his desk and makes sure the correct debt to society is paid in full.
But when Theo's ex-lover Dani is killed, it's different. This is one death he can't let become merely an entry on a balance sheet.
Because when the richest in the world are getting away with murder, sometimes the numbers just don't add up.
~
Although I haven't read the averagely reviewed most recent (other than this) book by Claire North, I still feel an obligation to add this novel to my TBR as her books The First Fifteen Lives reignited my love for reading, so I owe it to her to read more of her books!
---
Beneath a Ruthless Sun by Gilbert King
Synopsis: In December 1957, the wife of a Florida citrus baron is raped in her home while her husband is away. She claims a "husky Negro" did it, and the sheriff, the infamous racist Willis McCall, does not hesitate to round up a herd of suspects. But within days, McCall turns his sights on Jesse Daniels, a gentle, mentally impaired white nineteen-year-old. Soon Jesse is railroaded up to the state hospital for the insane, and locked away without trial. 
But crusading journalist Mabel Norris Reese cannot stop fretting over the case and its baffling outcome. Who was protecting whom, or what? She pursues the story for years, chasing down leads, hitting dead ends, winning unlikely allies. Bit by bit, the unspeakable truths behind a conspiracy that shocked a community into silence begin to surface.
Beneath a Ruthless Sun tells a powerful, page-turning story rooted in the fears that rippled through the South as integration began to take hold, sparking a surge of virulent racism that savaged the vulnerable, debased the powerful, and roils our own times still.
~
What's Nonfiction is really making a mess of my TBR. All her true crime reviews are amazing and they introduce me to new interesting books each time! I do love a book or TV show about criminal injustices – they make me so angry!
---
The Hike by Drew Magary
Synopsis: When Ben, a suburban family man, takes a business trip to rural Pennsylvania, he decides to spend the afternoon before his dinner meeting on a short hike. Once he sets out into the woods behind his hotel, he quickly comes to realize that the path he has chosen cannot be given up easily. With no choice but to move forward, Ben finds himself falling deeper and deeper into a world of man-eating giants, bizarre demons, and colossal insects. 
 
On a quest of epic, life-or-death proportions, Ben finds help comes in some of the most unexpected forms, including a profane crustacean and a variety of magical objects, tools, and potions. Desperate to return to his family, Ben is determined to track down the "Producer," the creator of the world in which he is being held hostage and the only one who can free him from the path.
 
At once bitingly funny and emotionally absorbing, Magary's novel is a remarkably unique addition to the contemporary fantasy genre, one that draws as easily from the world of classic folk tales as it does from video games. In The Hike, Magary takes readers on a daring odyssey away from our day-to-day grind and transports them into an enthralling world propelled by heart, imagination, and survival.
~
Before we move on to where and why I added this book, let's take a moment to appreciate that magical cover! It's so eye-catching!
This came to my attention from reading Books, Vertigo and Tea's review. She says it's totally weird and zany, which is definitely something I like in a book!
---
Everything About You by Heather Child
Synopsis: Freya has a new virtual assistant. It knows what she likes, knows what she wants and knows whose voice she most needs to hear: her missing sister's.
It adopts her sister's personality, recreating her through a life lived online. But this virtual version of her knows things it shouldn't be possible to know.
It's almost as if the missing girl is still out there somewhere, feeding fresh updates into the cloud. But that's impossible. Isn't it?
~
Dave at Espresso Coco introduced me to this book with his review. You call something a "creepy techno-thriller" and I'm in!
---
The Lies We Told by Camilla Way
Synopsis: DO YOU PROMISE NOT TO TELL?
A DAUGHTER
Beth has always known there was something strange about her daughter, Hannah. The lack of emotion, the disturbing behaviour, the apparent delight in hurting others… sometimes Beth is scared of her, and what she could be capable of.
A SON
Luke comes from the perfect family, with the perfect parents. But one day, he disappears without trace, and his girlfriend Clara is left desperate to discover what has happened to him.
A LIFE BUILT ON LIES
As Clara digs into the past, she realizes that no family is truly perfect, and uncovers a link between Luke's long-lost sister and a strange girl named Hannah. Now Luke's life is in danger because of the lies once told and the secrets once kept. Can she find him before it's too late?
~
And another book I found out about due to another blogger! This one caught my eye through My Chestnut Reading's blog post… I recognised the authors name from Watching Edie. With the review saying it's even better than Way's previous book, I definitely had to add this one to my TBR!
---
Find You in the Dark by Nathan Ripley
Synopsis: Martin Reese has a hobby: he digs up murder victims. He buys stolen police files on serial killers, and uses them to find and dig up missing bodies. Calls in the results anonymously, taunting the police for their failure to do their job.
Detective Sandra Whittal takes that a little personally. She's suspicious of the mysterious caller, who she names the Finder. Maybe he's the one leaving the bodies behind. If not, who's to say he won't start soon?
As Whittal begins to zero in on the Finder, Martin makes a shocking discovery. It seems someone—someone lethal—is very unhappy about the bodies he's been digging up.
Hunted by a cop, hunted by a killer. To escape and keep his family safe, Martin may have to go deeper into the world of murder than he ever imagined.
~
I've been seeing this one all over the blogosphere is recent weeks and each time I read a review for it, I become more interested in this unique sounding plot! A good / bad guy who digs up bodies for fun? Sounds super weird, but definitely interesting!
---
The Old You by Louise Voss
Synopsis: Lynn Naismith gave up the job she loved when she married Ed, the love of her life, but it was worth it for the happy years they enjoyed together. Now, ten years on, Ed has been diagnosed with early-onset dementia, and things start to happen; things more sinister than missing keys and lost words. As some memories are forgotten, others, long buried, begin to surface… and Lynn's perfect world begins to crumble.
But is it Ed's mind playing tricks, or hers…?
~
The Quiet Knitter's review put this book on my radar. I honestly wasn't thinking much of this one due to the synopsis, but after reading several glowing reviews for it, I knew I had to at least add it to my list for FOMO!
---
Bannerless by Carrie Vaughn
Synopsis: Decades after economic and environmental collapse destroys much of civilization in the United States, the Coast Road region isn't just surviving but thriving by some accounts, building something new on the ruins of what came before. A culture of population control has developed in which people, organized into households, must earn the children they bear by proving they can take care of them and are awarded symbolic banners to demonstrate this privilege. In the meantime, birth control is mandatory.
Enid of Haven is an Investigator, called on to mediate disputes and examine transgressions against the community. She's young for the job and hasn't yet handled a serious case. Now, though, a suspicious death requires her attention. The victim was an outcast, but might someone have taken dislike a step further and murdered him?
In a world defined by the disasters that happened a century before, the past is always present. But this investigation may reveal the cracks in Enid's world and make her question what she really stands for.
~
Another book added to the TBR thanks to Books, Vertigo and Tea! I love a good dystopian novel, but I hardly ever find ones that really take my interest. This sounds fantastic though!
---
Barracoon: The Story of the Last "Black Cargo" by Zora Neale Hurston
Synopsis: In 1927, Zora Neale Hurston went to Plateau, Alabama, to interview ninety-five-year-old Cudjo Lewis. Of the millions of men, women, and children transported from Africa to America as slaves, Cudjo was then the only person alive to tell the story of this integral part of the nation's history. Hurston was there to record Cudjo's firsthand account of the raid that led to his capture and bondage fifty years after the Atlantic slave trade was outlawed in the United States.
In 1931, Hurston returned to Plateau, the African-centric community three miles from Mobile founded by Cudjo and other former slaves from his ship. Spending more than three months there, she talked in depth with Cudjo about the details of his life. During those weeks, the young writer and the elderly formerly enslaved man ate peaches and watermelon that grew in the backyard and talked about Cudjo's past—memories from his childhood in Africa, the horrors of being captured and held in a barracoon for selection by American slavers, the harrowing experience of the Middle Passage packed with more than 100 other souls aboard the Clotilde, and the years he spent in slavery until the end of the Civil War.
Based on those interviews, featuring Cudjo's unique vernacular, and written from Hurston's perspective with the compassion and singular style that have made her one of the preeminent American authors of the twentieth-century, Barracoon brilliantly illuminates the tragedy of slavery and one life forever defined by it. Offering insight into the pernicious legacy that continues to haunt us all, black and white, this poignant and powerful work is an invaluable contribution to our shared history and culture.
~
Thanks to the Goodreads blog for introducing me to this one! It's sounds like a meaningful and deep read. I haven't read much about slavery, either fiction or non-fiction, but it's a subject I'd like to become more educated on.
---
The Woman Who Fooled The World: Belle Gibson's Cancer Con, and the Darkness at the Heart of the Wellness Industry by Beau Donelly & Nick Toscano
Synopsis: Belle Gibson convinced the world she had healed herself of terminal brain cancer by eating a healthy diet. She built a global business based on her story. There was just one problem: she never had cancer in the first place.
In 2015, journalists uncovered the truth behind Gibson's lies. This hero of the wellness world, with over 200,000 followers, international book deals, and a best-selling mobile app, was a fraud. She had lied about having cancer — to her family and friends, to her business partners and publishers, and to the hundreds of thousands of people who were inspired by her, including real cancer survivors.
Written by the two journalists who uncovered the details of Gibson's deception, The Woman Who Fooled the World tracks the 23-year-old's rise to fame and fall from grace. Told through interviews with the people who know her best, it explores the lure of alternative cancer treatments, exposes the darkness at the heart of the wellness and 'clean eating' movements, and reveals just how easy it is to manipulate people on social media.
With the idea of 'clean eating' now routinely debunked by dietary experts, and growing scepticism about the authenticity of what we read online, The Woman Who Fooled the World is a timely and important book that answers not just how, but why, Gibson was able to fool so many.
~
Another book added thanks to What's Nonfiction! I read a fictionalised version of this story, so it would be really interesting to read the true life story about it!
---
So there we have it! Those are the 12 books I've added to my TBR since last doing this post just under a month ago. If you're still here reading, a big thanks to you for sticking with me (again)!
What books have you discovered recently? And have you read any of these