Hello bookish friends! A while back, I created myself my first ever TBR pile where I would actually follow the books on it as my reading schedule. This is going to be a quick update on the old pile of books and the new books I've put on the list.
---
The old list…
So this was my original TBR list that I set up, and I have finally managed to read them all! Here's the link to all my reviews – apart from The Polygamist's Daughter, as I haven't posted that one yet!
I also sneaked in reading The Good People by Hannah Kent between my TBR selections.
---
The new list…
For the new list, I've tried to pick up books with different urgency to read! I've included a book from my "Books I HAVE TO to read in 2018" list, a few arcs I still haven't read, and a couple of books I've had on my shelves for ages.
Book 1

A Head Full of Ghosts by Paul Tremblay
I've actually already finished with this book now, as it was my book choice for March's BookBum Club theme! It'd been on my shelf (both online and physical) for absolutely ages so I'm so glad I finally got around to reading it! I ended up really enjoying it, my review is coming tomorrow.
~
Book 2
Dr Jekyll and Mr Hyde by Robert Louis Stevenson
Sorry, but I'm hitting you again with another plug for my Book Club, as this is my pick from April's Reading Theme, which is to read a book under 200 pages! I believe this was required reading back when I was in school, but I don't ever remember actually reading it, so now's the time!
~
Book 3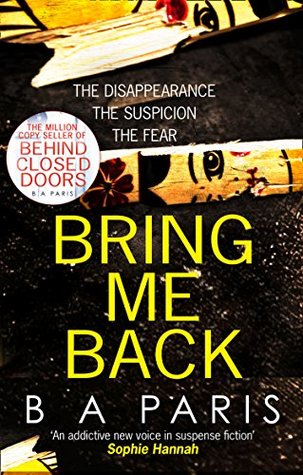 Bring Me Back by B. A. Paris
I'm a bit late to the party with this book, I was meant to read it ages ago but I've been in a bit of a slump, so I'm just now planning on reading it. This was an ARC given to me by HQ – all the more reason to read it as quickly as possible!
~
Book 4
The Man Who Knew Too Much Hitchcock by Sean McCloy
Sean was lovely enough to send me both of his books a while back and I still haven't got round to reading them! The shame! This is a definite must read for soon. I always enjoy giving indie authors a go.
~
Book 5
The Roanoke Girls by Amy Engel
I featured this book on my list of books I HAVE TO to read in 2018. I'm so behind on getting around to reading this one, but I'm looking forward to it. It's kind of nice to be so removed from the hype of it as it means I can form my own opinions a little easier!
~
Book 6
The Picture of Dorian Grey by Oscar Wilde
I asked Matt to pick me any random book off my shelf to add to my TBR pile, and so here we are! I guess I'm a little anxious to read this one because it's a classic, but I also have quite high hopes for it. Agh, I've just realised, that's 2 "classics" in quite close proximity, that's super unlike my normal reading pattern!
---
So that's a quick update on my TBR! Another 6 new books added – I'm trying very hard to stick to these TBR's and I think I did a pretty good job of it so far!
I'd love to know if you've read any of these and what you thought about them! Let me know what I've let myself in for haha. Also, do you guys keep to your TBR piles if you have them, or do you find it too difficult sticking to a reading schedule?