I'm sure most bookworms can relate, but I have an awful lot of novels that I've bought and then never read! And I'm not talking about bought a month ago, I'm talkng bought a year, maybe 2 years, ago! Why do we do it? Why aren't we able to resist a good book deal when we see it?
Today I wanted to compile a list that dictates a number of books I'm forcing myself to read this year, because they've spent too long sitting on my shelves feeling sorry for themselves. I'm hoping to come back to this list throughout the year to check off the books that I've put on it.
PRAY FOR ME THAT THIS WORKS TO REDUCE SOME OF MY TBR.
---
Recently I wrote a post about the books I pre-ordered last year, and whether or not I read them (you can read that blog here!). So all of those books that I didn't read last year, I've made a vow to read this year!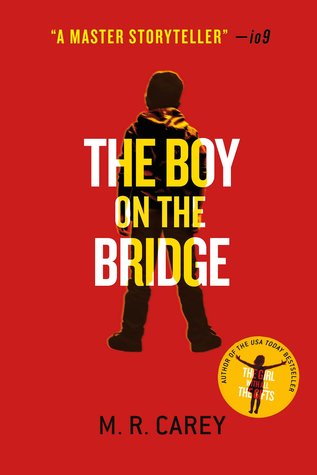 The Boy on the Bridge by M. R. Carey
I loved the first book in the Hungry Plague series, so when I saw this second novel was coming out I immediately ordered it. This has great reviews so I'm looking forward to reading it!
~
See What I Have Done by Sarah Schmidt
When I saw this novel, I requested it on Netgalley and got declined, so I jumped over to Amazon and ordered it straightaway. I only didn't pick this one up because so many reviewers said it wasn't anything like they had hoped for. It's got a lot of average reviews! Agh.
~
The Roanoke Girls by Amy Engel
This is another one of those novels I requested on Netgalley and got rejected on. Everyone who's read this novel seems to love it and I saw it appear on several "best books of 2017" blog posts at the end of last year! It's only a small book so I should be able to get through it pretty quickly!
~
Hekla's Children by James Brogden
I was really excited about this one last year as it was a new horror novel. I'm always on the lookout for a good horror! I have actually picked this one up before but then realised another book needed reviewing for a blog tour and put it down again… then it fell back into the depths of my TBR.
~
Black Mad Wheel by Josh Malerman 
After reading Bird Box at the beginning of 2017, I then wanted to read all of Malerman's stuff. When I saw this was coming out I immediately added it to Goodreads and then ordered it. Since then, I've seen pretty average reviews for it and I'm a little worried it's going to let me down, but whatever! We'll see!
~
Ararat by Christopher Golden
I love me a horror-thriller based up a mountain! After reading The White Road, I went on the search for a similar book and it just so happened that this one was coming out. I'm glad I didn't pick this one up straightaway to be honest, otherwise I would be comparing it directly to the Sarah Lotz novel.
~
Next, I'm moving onto some Netgalley books I've had sitting on my shelf for over a year.
His Bloody Project by Graeme MaCrae Burnet
I was lucky to be accepted for this one Netgalley, and then my mum bought me a physical copy for Christmas. This has got such great reviews I'm annoyed at myself for being the last person on Earth to read this one.
~
The Fortunate Brother by Donna Morrissey
I found this book for £2 in the Works on Saturday, I had completely forgot I actually had a copy on my Kindle so now I have both (again)! I'm really looking forward to this contemporary fiction novel. It's only a skinny little book too, so it should be a quick and easy read too.
~
Sweet Pea by C. J. Skuse
Pretty much every review for this book has been positive. I love the thought of a funny, but at the same time dark, thriller like this one. I hope I enjoy this because I've bigged it up in my head quite a bit.
~
Behind Her Eyes by Sarah Pinborough
This absolutely blew up last year and I missed out on reading it when it was relevant… surprise, surprise! This is one of those books with reasonably mixed reviews, but most I've seen in my blogging circle have been good. I remember it trending with #WTFthatending so that intrigues me!
~
Lastly, is a book I bought aaaages ago and has just been sat on my shelf since.
The Muse by Jessie Burton
I absolutely loved Burton's debut, I still recommend it to people to this day. It was so beautiful and emotional. I bought The Muse as soon as it came out but then never got around to picking it up. It's got a better rating than The Miniaturist does, so hopefully I'll find this one amazing like I did with the other!
---
So there we have it… This is sort of my yearly TBR. I'm really gonna get my butt in gear and try to get these all read before day 1 of 2019. I'm thinking that taking (some of) them on my two week holiday will get them read.
Do you have a yearly TBR like this? I'd love to know what books you've vowed to finally read this year!