I feel like I've been on a bit of a mad one with finding and pre-ordering books this past week (look out for a pre-order blog post coming soon!) but it turns out that I've only added another 4 books to my Goodreads shelf since I last did this post.
So, here's the newest 4 books I've found and added to my TBR shelf this past couple of weeks.
---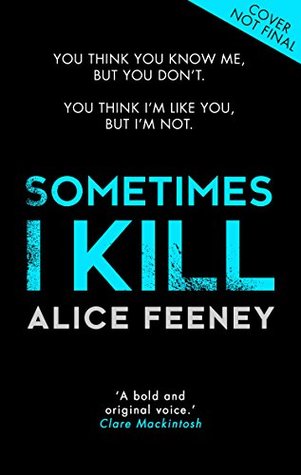 Synopsis: You think you know me, but you don't.
You think I'm like you, but I'm not
…Sometimes I kill
~
You know in cartoons, like Tom & Jerry, where a characters eyes pop out of their head because they're shocked by something? … Kinda like this
Well that's what happened to me when I saw this book, but in an excited way! So it kinda went more like this…
I LOVED Sometimes I Lie by Alice Feeney, so I'm really excited to see another book by her! Unfortunately this bad boy doesn't publish until Jan 2019!
---
Synopsis: In the rubble-strewn wasteland of Alphabet City, a squalid tenement conceals a treasure "beyond all imagining"– an immaculately preserved, fifth century codex. The sole repository of ancient Hermetic lore, it contains the alchemical rituals for transforming thought into substance, transmuting matter at will…and attaining eternal life.
When Rose, a sex and pain addicted East Village tattoo artist has a torrid encounter with Martin, a battle-hardened loner, they discover they are unwitting pawns on opposing sides of a battle that has shaped the course of human history. At the center of the conflict is Paul, the villainous overlord of an underground feudal society, who guards the book's occult secrets in preparation for the fulfillment of an apocalyptic prophecy.
The action is relentless as Rose and Martin fight to escape Paul's clutches and Martin's destiny as the chosen recipient of Paul's sinister legacy. Science and magic, mythology and technology converge in a monumental battle where the stakes couldn't be higher: control of the ultimate power in the universe–the Maelstrom.
~
This has been added to my TBR thanks to Lisa's Twisted & Questionable Top Ten Tuesday post from last week. That girl knows I can't resist a twisted book.
---
Synopsis: Mission House was not built for three people. Especially when one of them won't stop humming.
1954, the South Pacific islands. When Beatriz Hanlon agreed to accompany her missionary husband Max to a remote island, she knew there would be challenges. But it isn't just the heat and the damp and the dirt. There are more insects than she could ever have imagined, and the islanders are strangely hostile. And then there are the awful noises coming from the church at night.
Yet as the months go by, Bea slowly grows accustomed to life on the island. That is until an unexpected and interminably humming guest arrives, and the couple's claustrophobic existence is stretched to breaking point.
~
I saw this one on Netgalley a few weeks ago and I really like the sound of it! I requested a copy from the publisher but they responded that they're only giving copies to journalists – but that's fine! I will purchase it when it comes out! Also, let's just admire this beautiful cover! Sooo pretty 😍
---
Synopsis: Just as Jeremiah Goodbye is set to meet his fate in the electric chair, a tornado tears down the prison walls, and he is given a second chance at life. With the flip of a coin, he decides to return to his home town of Nowhere, Oklahoma, to settle the score with his twin brother Josiah. But upon his escape, he enters a world he doesn't recognize—one that has been overtaken by the Dust Bowl. And the gift he once relied on to guide him is as unrecognizable as the path back to Nowhere.
After one jolt in Old Sparky, Jeremiah sees things more clearly and begins to question the mysterious circumstances surrounding the murders he was accused of. On his journey home, he accidentally rescues a young boy who follows him the rest of the way, and the pair arrive at their destination where they are greeted by fearful townspeople. When the Black Sunday storm hits the very next day, the residents of Nowhere finally begin to let the past few years of hardship bury them under the weight of all that dust.
Unlikely heroes, Jeremiah and his new companion, Peter Cotton, try to protect the townspeople from themselves, but Jeremiah must face his nightmares and free himself from the guilt of flipping the coin on those men who died.
~
I'm sorry, you'll be seeing this book on my blog a lot in the coming days. After finding it on Netgalley this Monday, I've gotten really excited about reading it! I hope I like Markert's other book that's coming out at the beginning of this year, because if I do, I will keep my pre-order of this one.
---
So there you have it, those are the books I've added to my TBR over the past couple of weeks.
I'd love to hear about any books you've discovered recently! And are any of these on your TBR?