It's been a hot minute since I've done one of these posts! I've been majorly slacking on my decluttering but I'm going to try and get back into the groove of things.
Credit, as always, goes to the wonderful Lia @ Lost in a Story for this decluttering idea! I'm 300+ books deep into my TBR now… find out how many books I've removed, so far, below!
The aim is to declutter your tbr shelf. To do this:
Go to your goodreads to-read shelf.
Order on ascending date added.

Take the first 5 (or 10 if you

'

re feeling adventurous) books. Of course if you do this weekly, you start where you left off the last time.

Read the synopses

 

of the books

Decide: keep it

 

or should it go?
Lily Poole by Jack O'Donnell
Synopsis: Everything about John is off-kilter.
He's sixteen now, out of school and out of work. It's the early 1970s: shipyards in Clydebank are no longer hiring and a long stretch on the dole is imminent. But on a day when the town is covered by a deluge of snow, his life is changed by an act of kindness: he helps a wee girl, Lily, get to school on time.
She waits for him to meet her outside the school gates every day, but he seems to be the only one who can see her. This provokes a backlash that ripples out from concerned mothers at school to the parish priest of St Stephen's and invites institutional responses that involve the police and psychiatric care.
The unspoken hope is that John can be 'cured' of what has seduced him. But Lily has bled into other parts of John's family life, in a novel which is an exploration of the physical and the psychological, of spiritual crises and the occult.
I found this novel on Amazon pretty randomly, it's only got 40 reviews over Amazon and Goodreads, but I was really drawn to the cover. I really like the sound of this novel because it has paranormal, spooky aspects but then also sounds like it could be pretty meaningful.
keep
My Friend Dahmer by Derf Backderf
Synopsis: You only think you know this story. In 1991, Jeffrey Dahmer — the most notorious serial killer since Jack the Ripper — seared himself into the American consciousness. To the public, Dahmer was a monster who committed unthinkable atrocities. To Derf Backderf, "Jeff" was a much more complex figure: a high school friend with whom he had shared classrooms, hallways, and car rides.
In My Friend Dahmer, a haunting and original graphic novel, writer-artist Backderf creates a surprisingly sympathetic portrait of a disturbed young man struggling against the morbid urges emanating from the deep recesses of his psyche — a shy kid, a teenage alcoholic, and a goofball who never quite fit in with his classmates. With profound insight, what emerges is a Jeffrey Dahmer that few ever really knew, and one readers will never forget.
This has got really amazing reviews and I haven't read a graphic novel in a long ol' time! I am a bit worried that the synopsis makes this sound like a sympathetic look at Dahmer though, yes he may have been a troubled man and that's really terrible, but, in the end, he did end up murdering and eating people.
keep
The Killer Next Door by Alex Marwood
Synopsis: Everyone who lives at 23 Beulah Grove has a secret. If they didn't, they wouldn't be renting rooms in a dodgy old building for cash–no credit check, no lease. It's the kind of place you end up when you you've run out of other options. 
The six residents mostly keep to themselves, but one unbearably hot summer night, a terrible accident pushes them into an uneasy alliance. What they don't know is that one of them is a killer. He's already chosen his next victim, and he'll do anything to protect his secret.
This one has pretty average reviews, I probably only added it because I really like the cover for it! It sounds very samey to other thrillers I have to read and have already read so for the sake of cleaning my shelves, this one's a goner.
remove
The Good Mother by A. L. Bird
Synopsis: Suspected of killing Vera Donovan, her wealthy employer, Dolores Claiborne tells police the story of her life, harkening back to her disintegrating marriage and the suspicious death of her violent husband, Joe St. George, thirty years earlier. Dolores also tells of Vera's physical and mental decline and of her loyalty to an employer who has become emotionally demanding in recent years.
I didn't really want to read this one and I just read someone spoiler review so I know what happens in it now anyway. Buh-bye!
remove
Lock In by John Scalzi
Synopsis: Not too long from today, a new, highly contagious virus makes its way across the globe. Most who get sick experience nothing worse than flu, fever and headaches. But for the unlucky one percent – and nearly five million souls in the United States alone – the disease causes "Lock In": Victims fully awake and aware, but unable to move or respond to stimulus. The disease affects young, old, rich, poor, people of every color and creed. The world changes to meet the challenge.
A quarter of a century later, in a world shaped by what's now known as "Haden's syndrome," rookie FBI agent Chris Shane is paired with veteran agent Leslie Vann. The two of them are assigned what appears to be a Haden-related murder at the Watergate Hotel, with a suspect who is an "integrator" – someone who can let the locked in borrow their bodies for a time. If the Integrator was carrying a Haden client, then naming the suspect for the murder becomes that much more complicated.
But "complicated" doesn't begin to describe it. As Shane and Vann began to unravel the threads of the murder, it becomes clear that the real mystery – and the real crime – is bigger than anyone could have imagined. The world of the locked in is changing, and with the change comes opportunities that the ambitious will seize at any cost. The investigation that began as a murder case takes Shane and Vann from the halls of corporate power to the virtual spaces of the locked in, and to the very heart of an emerging, surprising new human culture. It's nothing you could have expected.
This is clearly a popular book with thousands of reviews and a pretty good average rating but I'm not clicking with that overly long synopsis in anyway. Pass.
remove
Ragdoll by Daniel Cole
Synopsis: William Fawkes, a controversial detective known as The Wolf, has just been reinstated to his post after months of psychological assessment following allegations of a shocking assault. A veteran of the force, Fawkes thinks he's seen it all. That is, until his former partner and friend, Detective Emily Baxter, calls him to a crime scene and leads him to a career-defining cadaver: the dismembered parts of six victims sewn together like a puppet – a corpse that becomes known in the press as the "ragdoll."
Fawkes is tasked with identifying the six victims, but that gets dicey when his reporter ex-wife anonymously receives photographs from the crime scene, along with a list of six names, and the dates on which the Ragdoll Killer plans to murder them. The final name on the list is Fawkes. Baxter and her trainee partner, Alex Edmunds, hone in on figuring out what links the victims together before the killer strikes again.
But for Fawkes, seeing his name on the list sparks a dark memory, and he fears that the catalyst for these killings has more to do with him – and his past – than anyone realises.
I really like how gruesome this one sounds. I think I have this novel on my Kindle already, but even if I didn't, I'd still want to keep this one on my shelves!
keep
Triptych by Karin Slaughter
Synopsis: In the city of Atlanta, women are dying—at the hands of a killer who signs his work with a single, chilling act of mutilation. Leaving behind enough evidence to fuel a frenzied police hunt, this cunning madman is bringing together dozens of lives, crossing the boundaries of wealth and race. And the people who are chasing him must cross those boundaries too. Among them is Michael Ormewood, a veteran detective whose marriage is hanging by a thread—and whose arrogance and explosive temper are threatening his career. And Angie Polaski, a beautiful vice cop who was once Michael's lover before she became his enemy.
But another player has entered the game: a loser ex-con who has stumbled upon the killer's trail in the most coincidental of ways—someone who may be the key to breaking the case wide open…
Ugh, honestly, I know I should want to read this one. Slaughter is such a popular crime writer but I'm so not feeling this synopsis and have no interest in reading this book. I still have her Pretty Girls on my list to read but I'm not falling in love with the sound of this one.
remove
The Euthanist by Alex Dolan
Synopsis: They know her as Kali. She is there to see them off into the afterlife with kindness, with efficiency, and with two needles. She's been a part of the right-to-die movement for years, an integral member, complicit in the deaths of twenty-seven men and women, all suffering from terminal illnesses.
And she just helped the wrong patient.
This novel doesn't have many reviews, I think I was originally introduced to it via a Goodreads friends recommendation, but I do really like the sound of it!
keep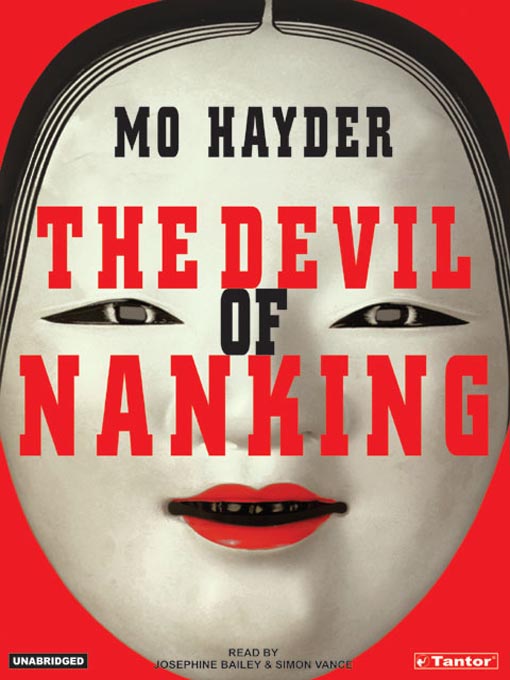 The Devil of Nanking by Mo Hayder
Synopsis: A young Englishwoman obsessed with an indecipherable past, Grey comes to Tokyo seeking a lost piece of film footage of the notorious 1937 Nanking Massacre, footage some say never existed. Only one man can help Grey. A survivor of the massacre, he is now a visiting professor at a university in Tokyo. But he will have nothing to do with her.
So Grey accepts a job in an upmarket nightspot, where a certain gangster may be the key to gaining the professor's trust. An old man in a wheelchair surrounded by a terrifying entourage, the gangster is rumored to rely on a mysterious elixir for his continued health.
I'm actually quite interested in this one. I want to learn more about the Nanking Massacre too.
keep
Before I Let You In by Jenny Blackhurst
Synopsis: Karen is meant to be the one who fixes problems.
It's her job, as a psychiatrist – and it's always been her role as a friend.
But Jessica is different. She should be the patient, the one that Karen helps.
But she knows things about Karen. Her friends, her personal life. Things no patient should know.
And Karen is starting to wonder if she should have let her in . . .
Honestly, the synopsis of this one doesn't grab me, and also kind of reminds me of the plot for The Blind which I read recently, but the reviews for this are glowing and I'm intrigued!
keep
So I removed 4 this week! Pretty good considering this is the first declutter I've done in aaages!!
Books analysed // 300
Books removed // 124
How many of these books do you know and want to read? Do you disagree with any of my verdicts? Let me know!