Hello everyone, I'm here today to complete some of my backlog awards / tags… this post includes 3x Sunshine Blogger Awards that I've been nominated for!! So yes, that means this post is going to be huuuge as each blogger asks 10 questions… that's a lot to talk about… Enjoy!
A huge thank you to the beautiful Jenna @ Bookmark Your Thoughts, the fabulous Shannon @ Captivated by Fantasy, and the lovely Lizzie @ Stellar Kitten Book Reviews for my nominations and your fun questions!
Jenna's questions:
If you could travel to any point in time, where would you travel? Why?
So I'm totally a modern woman but there's something so romantic about the 50's? I mean it's all bullshit really, domestic abuse was rife in the 50's but if I could go to the imaginary, lovely 50's in my mind, that would be nice! I've also always imagine Ancient Greece as a creative, thoughtful place to be, so I'd like to visit that time to.
What's your favourite animal? Any particular reason?
Bears. Preferably black and brown bears. They just look so cuddly and cute but in reality they could rip you face off – I feel like I relate to that.
What's your favourite word of all time? Why?
This is actually such a tricky question. I really love the word "discombobulate" because it's fun to say!
Name one personality trait you are happy you have!
I think I'm quite a giving person, both physically and emotionally. I quite like that about myself.
Name one physical feature you love about yourself!
People always comment on how big and green my eyes are, I like that people notice them as they're my favourite feature!
If you could live in a world from literature, which would it be?
I always say Middle Earth for this question… I just want to be close to Legolas.
What's your favourite book you've read so far in 2017?
I'm kind of sad to say that it's still Rosemary's Baby by Ira Levin, it's been months and months since I've read that and I've read lots of good book in between, but it just trumps everything!
Morning, Afternoon, Twilight, or Night? Why?
I like the night because it's a time for going out and having a few drinks and having fun, or it's time to sleep.
If you could be anything, what would you be? Why?
I'm like imagining shape-shifting for this question? Not sure if I'm supposed to be changing my form or you meant more a long the lines of "if you could have any job"? Sticking to the shape-shifting thing, I'd love to be a dog. As long as I was put in a loving home, I'd love to be a dog because they're so loved a cherished!
Where's your favourite place to be, simply to just relax and be yourself?
I just love being in my house. I feel so comfortable there! I'm sort of dreading moving out because what if I don't feel as confident and chilled out!
What's your favourite novel from when you were younger?
I really loved The Knife of Never Letting Go by Patrick Ness. The whole Chaos Walking series was fantastic!
Shannon's questions:
If you received enough money to never need to work again, what would you spend your time doing?
I've had this discussion with my boyfriend and workmates a million times haha! I would still need to be doing something, I couldn't just dot around having lunch here and visiting friends there. I would probably do volunteer work!
How would you describe yourself in 5 words?
Shy, quirky, sleepy, dorky and annoying lol.
If your entire life was a movie, what title would best fit?
Groundhog Day – because I basically do the same thing over and over and over.
Do you ask enough questions, or are you happily settling for what you know already?
I like asking questions, but only when I'm really passionate about something. I'm not one of these poeple that needs to know about everything.
What is the last thing that you've done that's really worth remembering?
I suppose getting my new job? I'd been at my old place of work for 2 years and was going nowhere so I looked elsewhere and got the first job I went for! I'm so glad I made the decision to change my job. I'm having a much nicer time now.
If you could only read one book for the rest of your life, what would it be?
Egh, this is such a tricky question! I guess something big like The Complete Works of Edgar Allan Poe.
If you could only eat one food for the rest of your life, what would it be?
Pasta! I looooove me some pasta.
Fictional or non fiction books?
I'm a huge fan of both, but I'll go with fiction just because I read them more often and there's a bigger variety that I enjoy reading.
What inspires you?
I literally have no idea what to say when someone asks me this question. Like Malala is inspirational, but like how? She's never inspired me to do anything but I think she's fucking amazing!
Whats your favourite book series?
I don't have one!
If you could spend 15 minutes with anyone, living or dead, who would it be? Why?
I'd like my Grandpa Pops back to for a chat and a cuddle…
Lizzie's questions:
Did you have an imaginary friend as a child?
Yes! She was called Bosheeka (pronounced bow-she-ka) lol I have NO idea where that made up name came from and Susan. They weren't the sort of friends who I saw, I just made up stories about them in my head. Bosheeka was always naughty and Susan was a goody-two-shoes.
What book really got you into reading?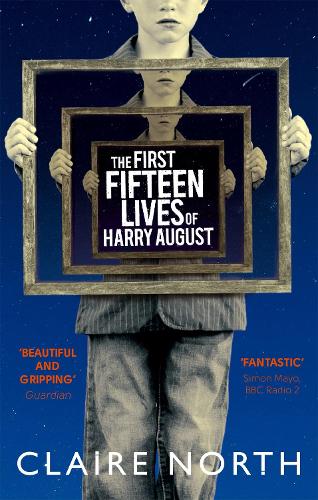 As a kid, something like The Knife of Never Letting Go by Patrick Ness, but as an adult it was The First Fifteen Lives of Harry August by Claire North.
Because schools always have assigned readings: What was your favorite assigned reading?
I really love To Kill a Mockingbird by Harper Lee, and that was assigned reading during my GCSE years. I also enjoyed A Streetcar Named Desire by Tennessee Williams which we studied during my A Levels.
What book/series would you want to see turned into a movie/TV show?
Everything I love has been turned into a movies! American Psycho, Misery, Rosemary's Baby etc. I can't think of much else that I'm desperate to see on the big screen!
What are some books you don't talk about often that you really love?
Helter Skelter by Vincent Bugliosi, The Girl Before by Rena Olsen and Bird Box by Josh Malerman are a couple I few but don't really talk much about on the blog.
If you could change the ending to any book, what book would it be, and what would happen in your new ending?
Talking about a recent book, rather than my least favourite ending, I'd like to change the ending for The Innocent Wife by Amy Lloyd, which I finished a couple of days ago. I won't say what I'd change it to because that would spoil the real ending and it hasn't even been released yet so I don't want to be that person.
Pick two characters, from different books. Now, throw them into a fairytale. How crazy would it get?
Patrick Bateman and Annie Wilkes. Now that would be a deadly tale!
Coffee, tea, or smoothies?
Tea all the way! Yummy.
About how many unread books do you own?
150+ I'd guess!
What has been your favourite 2017 release so far?
Probably… The Witchfinder's Sister by Beth Underdown… I really loved that!
What 2018 book are you looking forward to the most so far?
The Seven Deaths of Evelyn Hardcastle by Stuart Turton!! I cannot wait for to read this novel!
Woowee, that was a long ol' post! If you're still here reading this, well done you! Big thanks for sticking with me!
I am actually going to tag some people in this award today *pat on the back to me for following the rules*
Tagging…
Bridget @ Bridget and Books // Lois @ Lois Reads Books // Sam @ One Bookish Girl // Marija @ Inside My Library Mind
I'm not sure if you all do tag posts and I also ask non-bookish questions most of the time, so I know some people don't like that! There's never any pressure to do anything I tag you in!
My questions for you:
What is/was your favourite school subject?
Which do you like better, TV or movies?
How many books did you read last year?
How many books have you read this year, so far? And what's your book goal of the year?
If you had to change your name, what would you change it to?
If you could learn a new language in 5 minutes, which would you like to learn?
What colour do you think suits you best?
What's the worst movie you've seen?
What's the worst book you've ever read?
Are you a dog or a cat person?