I was tagged a long, long time ago by the wonderful Not So Modern Girl, to do her original tag, The Listicle Tag! I'd never heard of a Listicle before but essentially it's an article in list format! Think Buzzfeed.
Thanks so much Not So Modern Girl for the tag, it's been tricky coming up with my answers because I've found that most of my books have male main characters and all the women are annoying! So, I've merged book and movie characters for my post. Hope that's OK!
---
Rules:
Create your own listicle tag, using the prompt from the person who tagged you.
Tag the creator of the post (not-so-modern-girl!) so that I can read all your brilliant posts and see how the joy of listicles is being spread.
Nominate as many people as you want!
Set those 5 people the subject/prompt of their listicle post!
---
Zoo – The Last One by Alexandra Oliva

You'd never have guessed, right? I think Zoo might be my all time favourite female character from a book.
She's sassy and funny, but also a brutal bitch (in a totally cool way) and I admire her for being all those things and not making it annoying! She was such a fun character to follow and get to know, she really did help make this novel such a great reading experience!
I really felt attached to Zoo as I read through this book and I kind of wish Oliva would make a sequel to this novel so I could revisit not just Zoo, but all the other characters too.
---
The Bride/Beatrix Kiddo – Kill Bill
Um, duh! The Bride is a super cool, super badass female character. No one gets past her.
I love the storyline for The Bride, her taking her revenge on all those who betrayed her who she thought of as allies. If you haven't seen Kill Bill, do so immediately (but maybe no if you're not into gorey films)!
---
Annie Wilkes – Misery by Stephen King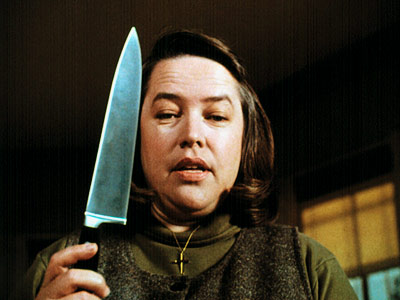 I know this is a strange pick but there is something so evil and menacing about Annie, that I'm just drawn to her!
I wish there were more characters out there like Annie, I love that she's this unstoppable force making a man quiver in his boots… maybe that's just the feminist in me (I'm joking).
---
India Stoker – Stoker

The first time I watched Stoker I was immediately struck by how cool India Stoker was. She's the kind of girl I've always wanted to be; odd, a little morbid and hard as a rock.
Stoker has quickly become one of my favourite films because I can't get over how blasé and aloof India is. I want to be friends with her, but she's exactly the type of girl who doesn't need friends.
---
Grandma – The Witches by Roald Dahl
I liked Grandma because she was everything a real grandma should be. She was loving and sweet, but she was also filled with scary stories to freak us out.
I liked how she took no shit from anyone and she had a fun little sassy streak which made me laugh when reading the novel only a few months back.
---
Thanks again, Not So Modern Girl, for the tag! This was a lot of fun to do!
I tag…
Coffee Shop Book Review // LizScanlon // Lee @ Golden Pink Journal // Jackie @ toomuchofabooknerd
The prompt for your list is: 5 books you wish you could read again for the first time
(so like books you had so many feels for the first time you read it, you'd love to get those full-on strong feels back)