Today I wanted to do a discussion post, because I don't often do these and I was feeling extra feisty today and wanted to get some of my anger out lol.
This post is all about my personal bookish pet peeves… and there are a lot of them!
---
1. Movie poster book covers
I know I've spoken about this on my blog before, but let's take a minute to stew over how lazy and unimaginative this is as a book cover. I don't want to see some highly overpaid actors and actresses on the cover of a book, who are not how I imagined the characters at all.
I purposely avoid movie poster book covers. I will never, ever buy one. Not even second hand. Here are a few examples… and as much as I love Matt Damon's face, I still don't want it on my book.
2. People who are careless with books – cracked spines, dog-eared pages and permanent notes & highlighting
Now this one is gonna be a little controversial, but I hate messy looking books.
Listen, unless it's old as hell, you shouldn't be cracking the spines and fucking up a book you paid good money for. I purposefully don't lend my books out to people because I don't trust them with my books. I have never, ever cracked a spine on my books, ever. It's not necessary. It's book torture and I won't stand for it!
Dog-eared pages are probably less controversial, I mean who wants bendy corners on their books? It annoys the hell out of me. My stepdad will be reading a book for five minutes and the books will be folding back in on themselves. UGH.
Lastly is permanent marking in books. I have no issue with making notes in a book, not that I do it myself, but it doesn't bother me… as long as it's in PENCIL. Getting used books with writing and highlighter all over them really ruffles my feathers.
3. Detectives with inner demons
Can we give this book trope a break now please? Why do all detectives in detective series have to have some sort of inner demon or past tragedy that goes everywhere with them? Why can't detectives be normal people for once?
This is pretty much the main reason I can't get into series. I don't mind if it's a small problem like an ex wife, or can't have kids or something like that, but when it's something like their brother is a serial killer that they had to catch and prosecute, then I lose interest. Immediately.
4. Crappy book cover changes
AGGHHHH, I'm sure you can all relate with me on this one! I might just have to do a whole post about it at some point.
Why, oh why do publishers feel the need to change book covers so often and change them into something cheesy as hell?
Examples: 
My Sister's Bones (4 stars from me!) went from arty, autumn, gorgeousness to woman walking on the most desolate piece of land you've ever seen ft a flock of birds.
Room went from simplistic and eerie to a little boy sat with a miniature house plus a vignette filter for good luck.
Watching Edie (4 stars again!) went from haunting yet creepy woman looking through a beautiful ocean coloured window to a close up of a very photoshopped eye behind half a wall.
The Trap (4 stars again!) went from eerie open door (come in, come in, I won't hurt you) to a fountain pen about to stab a butterfly.
These are just a few book cover changes I hate, but there are so many more!
5. Books with no blurb
How the hell are we supposed to know if we want to read the book when there is no blurb? Or if there is a blurb, it's 2 sentences long and gives away nothing of what the book is going to be about.
Books that just have reviews plastered all over them, with no real synopsis, really piss me off too. Especially when the reviews are for the author's last work…. why would we need to know about their other book if we want to read this one!?
6. Stickers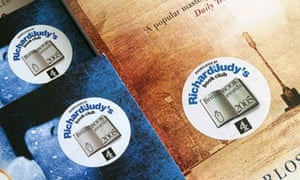 You all know what I'm on about here. Those awful circular stickers bookstores think is appropriate to shove onto beautiful book covers, just because it won the "Costa Award" or is a "Richard & Judy pick". What's even worse is that 9 times out of 10, THEY DON'T COME OFF EASILY, and then you're stuck with a horrible sticky mess all over your brand new, beautiful book.
Please. Richard and Judy. Stop ruining the book you apparently love so much.
7. Authors that rehash events from previous books in a series in painstaking detail
I know, this is for those barbaric people (me included sometimes) who start a series half way through, more than anything, but as a series reader, I really don't want to read in detail something I've already read.
8. The irritating flappy paper cover you get with hardback books
Why can't hardbacks just print the cover onto the thick card / cloth bound part of the book, rather than leaving that a plain and miserable grey and using a slip of paper as the cover.
Those slips of paper never last! I always managed to ruin them because you can't constantly take a book with a slip round it in and out of your bag. I know you can say "just take it off when you're carrying it around" but then what's the point in having it to begin with!? I wish they would just print the bloody cover on the bloody book!!!!
9. When a Kindle doesn't sync to the further location read
This is pretty specific, but as a Kindle reader, this annoys the hell out of me. I read on both my Kindle and on my Kindle app on my phone (just depends on what I've remembered to charge that night!) and I'd like them to be able to sync properly, but it doesn't always manage it.
It's annoying because you have to have wifi, which isn't always possible, but even sometimes, when I have wifi, it still won't sync to the furthest reading location, then you're stuck scrolling through all the pages, and that's not that quick a process on Kindle!
10. Unrealistic conversations
I hate when a book has to explain itself all the time. I actually had a discussion about this issue with my dad not too long ago. He's currently reading an espionage, spy thriller and he was saying that the plot is great, very thrilling and interesting, but the speech between characters was really difficult to get on with because they kept using abbreviations and then going on to explain what that abbreviation means. That's not how the real world works! A spy wouldn't keep repeating themselves like that!
If you must use abbreviations in your text, make a little glossary or something! Don't make the conversation all stiff, unrealistic and weird!
11. Reviews that aren't reviews
I've spoken about this with someone before here on WordPress, but I can't for the life of me remember who (sorry!). What I mean by this point is when people "review" a book in two short paragraphs, one of which is an overview of the synopsis. Don't tell me what the book is about, that's what a synopsis is for goddamn it!
It doesn't count as a review if you tell me what the book is about, in your own words, and then go "I liked this one, really shocking and thrilling! Would recommend."
---
Ok, rant over! Thanks for all sitting with me through that, I'm OK now.
Do you agree with any of my points? I'd love to know if you have any different bookish pet peeves that haven't featured on my list!
*Links are affiliate. I appreciate every one of you who purchase from my affiliate links ❤*