Hey, so I'm back at it again with my movie favourites! Last week I did a post all about my cliche favourites, basically, movies that are widely loved and appreciated in society. This week I'm doing my lesser known, or lesser appreciated films that I hold on a pedestal.
I've decided to add the trailers and some gifs into the post, to liven it up a little.
There's more on this list cause I'm soooo hipster (lol, I'm joking)
---
(I kind of don't want you to watch this because it gives so much away…)
This films really gets me every time I see it, and I've watched it about 30 times (no joke). It's very arty as opposed to action filled but I'd say this is one of my favourite movies of all time. It's so weird and totally underrated. The cast is phenomenal and the music score is fantastic.
Mia Wasikowska won my heart in this film, she is my favourite actress of all time and she is superb in this film. So melancholy, odd and disturbing, "He used to say, sometimes you need to do something bad to stop you from doing something worse."  Matthew Goode and Nicole Kidman are fantastic as well.
My favourite scene is the piano scene, ugh it gives me shivers even thinking about it now.
(That quality though. WATCH THE TRAILER, I DARE YOU NOT TO WANT TO WATCH IT AFTERWARDS)
I came upon this film completely by chance, one night when I was on my own and still awake at 2am. I'm so glad I didn't pussy out. This is terrifying in a total psychological way and I loooove the ending. "Whether by knife or whether by gun, losing your life can sometimes be fun."
This is a remake of a German film but they've filmed it frame-for-frame the exact same as the original. I love the filming in this, how it leaves you in one place while stuff is going on in another, and when the fourth wall is broken, it's chilling. This movie is total satire, and I think that's why I love it even more.
Performances in this are stunning. I fell in love with Brady Corbet because of this film and I'm sad to see he hasn't done much more since. Michael Pitt and Tim Roth are amazing (as always) in this and I even liked Naomi Watts' performance! I have shown literally everyone I know this film.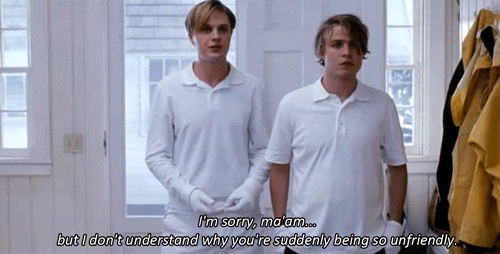 (This trailer is shockingly bad, it doesn't do justice for the movie at all)
I could be wrong, but I think this may be the most unknown movie on the list. When I bought this on DVD I had to change my geography on my PC because it would only play if you were in the American region.
This films comes across as a goofy teenage flick, but it's really nothing like that at all. It's beautiful. This film makes me happy, its makes me laugh and it makes me cry. "Only posers die you fucking idiot!"
Matthew Lillard is usually a bit of a nothing actor, but he really shines in this. Plus we get baby Jason Segal and Til Schweiger!
(These retro trailers are so cheesy, I love it)
I loooove this movie. It's totally a feel-good film and I love that it's based around childish ideas but it's very much an adult movie. I can't even tell you how much I've cried at this film, it really brings out the waterworks. "Look, you've got you now. You don't need me."
Rik Mayall is so beautiful and makes the perfect imaginary friend. I wish I had a Fred when I was younger.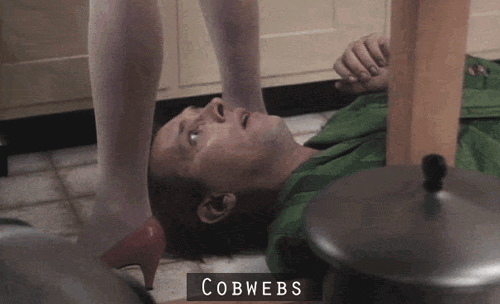 (another cheesy trailer that makes me want to hurl)
Thinking about it now, I think this movie is on the wrong list because a lot of people love it but I guess cause it's immature and silly, I just bunched it in with the rest of those kinds of movies, as people usually don't care about them as much. But Wayne's World is iconic.
I'm not ashamed to say I know the entire script to this movie. It's so goddamn hilarious, I don't get it when people don't find this funny! "I say hurl. If you blow chunks and she comes back, she's yours. But if you spew and she bolts, then it was never meant to be."
I love Mike Myers in anything he does, yes, even Cat in the Hat, so of course I'm going to enjoy this film, Wayne is incredible. But Garth has to be my favourite character, he's so awkward and cute.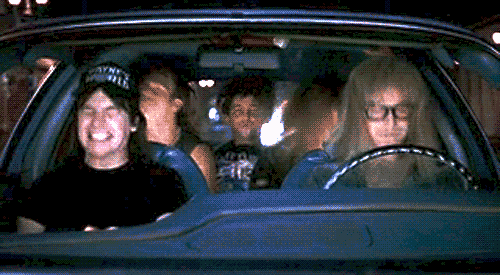 (finally, a good trailer for an old film, thank god!)
This is another film that I came upon by chance (thanks tumblr) and I fell in love with it straight off.
Vincent Gallo is a total arsewipe but I love him in this movie, and I love him for creating it. It's a slow, but moving and sombre film. It's also funny and heartwarming too, don't worry, I'm not trying to get you to watch a film that will depress you.
It's certainly an odd film… "I'm gonna step out of the car for one minute. One minute, I'm gonna step out. Put your hands on the dashboard like that. Hold em like that. Don't let me see you move them, not one finger move, not one twitch of a move or I'll come back and choke you to death. I swear to God. I'll take a bite out of your cheek and I'll shit you out." … but I really love it.
Christina Ricci is incredible in this film and when people say this was her "fat phase" I get really angry.
(sigh, oh David)
Another movie that I guess isn't that niche or unliked, but I still think it warrants a place on this list more than on the other. This movie is a childhood favourite of mine, and I still love it just as much today.
It's safe to say that I fell in love with Bowie because of this film (not because of the crotch… you dirty people!!) "I ask for so little. Just fear me, love me, do as I say and I will be your slave." 
I love that it's a musical with Bowie,  I know all the words to each of the songs and I have the soundtrack saved on my phone. All the characters are seriously cute and unique and I want to name my future dog, Ludo.
(aww cheese fest!!)
I had to have a cheesy film on this list, right? I love this chick flick! (you won't hear me say that a lot!) This is so soppy and ridiculous but I have such a huge love for it and I try to watch it at least once a year. It's just such a feel good film. "When my 60 seconds came around I realized I had everything I ever wanted… but nothing I really needed."
Amy Adams is possibly my all time favourite actress (I know I said the same about Mia, don't make me pick!) so it really helps that she's in this, but I love Matthew Goode too, even if his irish accent is tragic.
(watching this trailer makes me wanna sit down and watch this movie again, it's so good!)
Do you ever feel like getting your brain scrambled? Well, look no further! This will do exactly that. I remember when I first watched this, and not only did I fancy the pants of Guy Pierce, I was also amazed by it and then bought it for my boyfriend to watch.
This is super emotional, "We all lie to ourselves to be happy.", and really clever, I mean you can't expect much more from Christopher Nolan really!
Don't even think about blinking during this film because you will miss something. Get yourself a bowl of popcorn and focus like hell on it. You'll probably still get confused.
(look at all the amazing actors in this!)
Damn it's been too long since I saw this film. This movie is incredible. It has a stellar cast (Leo DiCaprio, Matt Damon, Jack Nicholson & Mark Wahlberg to name a few) and it has the most bonkers and soul destroying but satisfying ending ever.
You need to really be in the mood to watch a movie to get this one. You really do have to pay attention to it because you look away for a second and you might miss something important. "When I was your age they would say we can become cops, or criminals. Today, what I'm saying to you is this: when you're facing a loaded gun, what's the difference?" 
This is fast paced, thrilling, gory and amazing. Please, go watch it if you haven't and you like a thriller movie!
(Tarantino is a master filmmaker)
An underrated Tarantino movie! This is, arguably, my favourite Tarantino movie of all time. I love the subject of WWII, not in a morbid way, so this was a perfect film for me to sit and enjoy. This is beyond gory, but I like that when we're talking about killing the Nazis.
What I love about this movie is that it tackles a tough subject, it's emotional and it's raw, but it's also really funny! "Yeah, in a basement. You know, fightin' in a basement offers a lot of difficulties. Number one being, you're fightin' in a basement!" Oh… and don't forget gory! Pitt is so good in this movie, but he's not the only one. This has an incredible cast, all of whom fit their roles so well, even the lesser known people.
(gore, beware!)
This clip here is my favourite scene. The "Bear Jew" scene. Holy crap it gives me goosebumps every time. But the scene with Christoph Waltz is a real tear jerker and is definitely what this film is known for.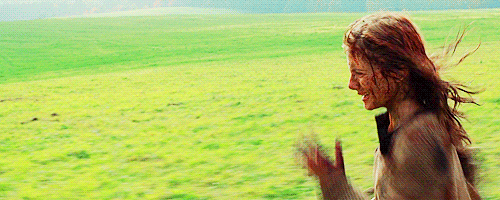 (look at this, how could you not love it?!)
My favourite film of all time. I hate how under-appreciated Ratatouille is. It's so adorable, different and cute. No sickly love story, no helpless princess and it made rats cute!!
I love this film with all of my heart. It's so happy and adorable, it makes me feel all warm and fuzzy. "If you focus on what you left behind you will never see what lies ahead!"
(even the trailer makes me laugh)
If you're in a bad mood and all you need to a little cheering up, put this film on. It's so stupid and, as the title suggest, dumb, but I love a bit of juvenile humour every once in awhile and this film provides.
This film features Jim Carey, doing what he does best, being stupid and acting like a child. I love it. I've seen this film a million times and I still laugh each time. "According to the map, we've only gone 4 inches."
(yes, that is Alan Rickman, Matt Damon, Ben Affleck, Chris Rock and a SEXY AS HELL Salma Hayek!!!)
As a non-religious person, I love this satire film. It has an amazing cast of people and the plot is totally one of a kind. I'm not sure if it's offensive to Catholic viewers, if any of you have seen it, let me know! "Metatron acts as the voice of God. Any documented occasion when some yahoo claims God has spoken to them, they're speaking to me. Or they're talking to themselves."
I've watched this film through the years, and as I'm getting older, I'm getting more and more of the jokes in this. Lots of them are very subtle, but my god are they funny. I would go so far as to say this film is in my top 5.
This film is seriously kooky and I love the continuation of characters in it (eg Jay and Silent Bob) because I have followed all the linking films around these characters.
(the top comment on this is "Pity the poor soul who had to condense this labyrinthine mindfuck of a film into a two-minute trailer" and I couldn't agree more!)
Last, but certainly not least, is this gem. "That rug really tied the room together."
This film is too underappreciated! Yes it's a little bizarre but  Jeff Bridges is the coolest asshole ever in this film and it's one of the funniest flicks I've ever seen. I find myself laughing the whole way through this movie, again, it's very bonkers and strange, but it's so my kind of movie.
I'm not even sure what to say about this one because it is truly strange. People say it's slow and dull, but I'd tell them to watch it again and pay attention this time. It's comedy gold. It's also got an underlying meaning to it too, it's not just stupid humour, but it is a great pick-me-up film.
---
Woopheww! There was a lot going on in this post, but you know what? I have so many more movies that have come to mind I could actually do a part 3. But I won't, at least not yet!
There we go, these were all my other favourite films! Have you seen any of them yourself and love them too? Let me know! I'd love to hear your thoughts!
*Links to Amazon are affiliate. I appreciate every one of you who purchase from my affiliate links ❤*